First Time Renting or Buying
The RV Resort Experience
There are few places that offer the winter climate available in AZ. The desert location provides winter weather that is conducive to outdoor life.
Relatives of ours used to spend three months each winter in a Phoenix area resort. Family would comment on their return that they always looked healthier in April than any other time of the year.
Our first experience in an RV resort was amazing and surprising.
I have never seen so many older people golfing, playing tennis, shuffleboard, in a swimming pool, and generally out-and-about.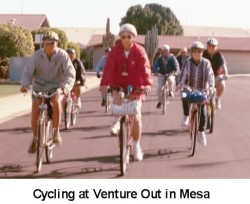 A common mode of transportation in the resorts is bicycles. Almost everyone has one and I had to get back on as well. (No you never forget but those seats do seem a little harder than I remember)
The biggest surprise was probably the weather and lack of bugs. I had always imagined winter in Arizona like (say) May at home. Some nice sunny days, some calm days, some rainy days, some cloudy days, some windy days, and such.
I was pleasantly surprised that maybe 90% of the days in February were sunny and calm. Most days in February were around 20-25C (or 70-75F) with little if any breeze.
And the bugs. I never thought that critters would also hibernate in warm climates, but they do. During a six week period I saw exactly two bugs. I never realized before how pleasant it can be to have nice summer days outdoors without bug spray or swatting the critters off the food. It is quite pleasant.
What you Need to Know!
If you haven't spent a winter in Arizona before
There are a lot of people who are looking for a way to spend their winters in a climate more conducive to an active and enjoyable lifestyle.
The problem is that if you have not experienced any of the various options for that lifestyle it can be difficult to decide what to pursue.
There are a few things you need to consider before you decide whether the Snowbird RV Resort Park is for you.
You are not only in a resort you are in a 'community'. And a community that really does have some of that 'small town America' feel.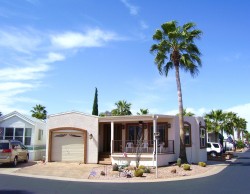 The units are set up in a way that looks and feels very permanent, and really almost is. The driveway, patio, storage shed, and maybe an Arizona Room and even small garden area all add to the feeling of a more permanent residence.
Many of the facilities in your home are also available in the trailers but some of it is outside or down the street. As described in the section About Park Models your living space really extends to the outside and beyond. The pool and hot tub are down the street instead of in the backyard. The craft area, woodworking shop, laundry, music room, and other facilities are there for your use but just not in your house or yard.
RV Snowbird Resorts for Seniors
The whole focus of this site is the experience of living in a Seniors RV Resort in a warmer climate through the winter months.
There are literally hundreds of these resorts in the state of Arizona offering a wide array of amenities and lifestyle experiences. But there are also some important differences.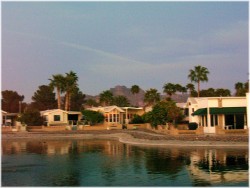 The size of the resort is a primary determining factor. The resorts range considerably in size from the very smallest of maybe 25 lots to resorts with 2,000 spaces.
It doesn't mean there is anything wrong with a smaller resort but naturally the larger resorts can afford more activities, amenities, and central facilities.
The medium and larger sized resorts are pretty standard in terms of layout, security, and central facilities. Some smaller resorts are more for the very budget conscious and those who are not interested in paying for a lot of things they don't use. It is all about individual choice.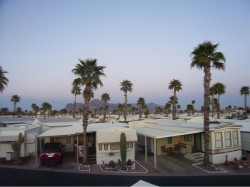 Most of the resorts are about 70-90% 'park model' homes. (With the rest being mostly RVs)
These park models are all about the same size. The lots they sit on are about the same size. Plus lots for the RVers.
Most resorts separate the 'pets allowed' area from the 'no pet' area.
That 'Small Town America' Feel
We all know that model small town doesn't really exist outside of Hollywood. But these resorts have come about as close to that imaginary feeling as I have seen.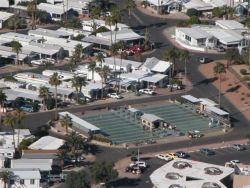 The clean paved streets with mostly bicycle and pedestrian activity combined with the friendly greetings present a very comfortable atmosphere.
Nearly all the resorts are designed with a similar layout. Streets of RVs surrounding central facilities.
And they are truly 'communities' onto themselves. There is a strong community feeling in most of the resorts as people live together in a type of small town atmosphere. Everyone is very friendly and quick to help a neighbor.
"We knew about these resorts and had considered trying it out to see if we liked that experience. I was quite reluctant because I didn't feel quite ready for 'what I perceived to be' the lifestyle. To my surprise I felt quite at home and very comfortable. And my privacy was very well in hand. Sure everyone is friendly and says 'hello' but no pressure to join or participate. Or, lots to participate in if that is what you want. And I was shocked that I actually enjoyed living in a 'trailer'. Never thought that would happen."
It's interesting how all these people from all these different places and backgrounds come together with the common bond of just wanting to live life as enjoyable as possible. There is not a lot of discussion about who you 'used to be'. Really not that many actually care. Whether you were successful in your career or just survived it doesn't really matter.
Status seeking is not very evident. It's like there no longer is any value in trying to impress the neighbors.
Choosing a resort
"It may be hard to change later"
A major consideration when deciding to 'try out' a resort is that you may be choosing a new 'home town'.
It is noticeable how many resort residents would find it unthinkable (well almost) to move to a different resort. It becomes a home and it is sometimes hard to leave because you have become part of a community.
Of course those with bad experiences will be happy to leave. But once you develop a bit of a community social life it can be difficult to start over again in another 'community'. You make friends and develop relationships with neighbors. You get involved in group and club activity and that can be hard to leave.
While some people have spent their lives moving to different communities and don't worry about making new friends and such, many of us get attached to our location and find a move more difficult. And, to some, the older you are the less you search for the new adventure associated with moving from your community.
Choose carefully ... you may not want to change later.
Check out the resort Facilities, Services, Amenities, and Activities
You should make sure you are moving to a resort that has the facilities, services, and the things to do that meet your needs and interests.

Most of the larger resorts have websites and we have listed them in the resorts listing and links sections. The resorts do a good job of listing their facilities and usually show pictures so you can get an idea of what is available.
The resort facilities include both the functional (laundry, office, security, etc) and those related to resort activities such as swimming pools, hot tubs, workshops, and the like. And of course basic services such as mail service, access to the internet and cable TV, as well as maintenance and support.
There are a huge assortment of facilities in some of the resorts; Recreation Centers, Exercise Rooms, Laundry, Swimming pools, Hot Tubs, Libraries, Workshops, Card Rooms, Tennis Courts, Computer Rooms, and on and on. Very large resorts will even have Grocery Stores, Restaurants, Driving Ranges/Putting Greens, and maybe a Golf Course.
You want to know that the facilities are in good condition and things work as they are intended. You also want to know that the resort is clean and well maintained.
The Activities - "What is there to do?"
That old cliche ... 'You can be as busy as you want to be' ... certainly fits the concept of the RV Resort trailer resorts.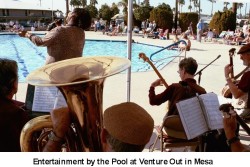 Tennis, Dancing, Golf, Billiards, Pickle ball, Concerts, Shuffleboard, Horseshoes, Lapidary, Silversmithing, Wood Working, Quilting, Card Games, Ping Pong, Ceramics and Pottery, Book Clubs, Service Clubs, Church Services, Movies, Water Aerobics, Yoga, Pilates, Painting, Computer Club, Choirs, Musical Groups, and more.
The last thing you need to worry about is having enough to do.
When choosing a resort location the activities are critical if you want to match your particular interests and lifestyle. If playing horseshoes is your thing then look for horseshoe pits. If tennis is your game then make sure there are adequate tennis courts. If you are a 'lap swimmer' then make sure the pool(s) can accommodate that.
"We blew it on this one. We like playing tennis and bought a trailer in a resort without tennis courts. But thought it was such a good deal and we can drive to tennis courts. Now we are sorry. But love the trailer and love the neighbors. Now what?"
While you may feel you can travel outside the resort to participate in activities (and certainly you can) you may not be so inclined once you take up residence. It seems that resort residents develop a lifestyle that becomes more 'small town'. It becomes habit to walk to things and/or ride your bike. You may strongly regret that you chose a resort where you needed to fire up the family vehicle and head off into the city traffic to participate in your favorite activity.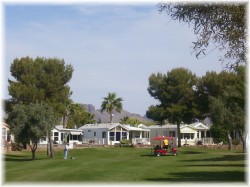 Of course some activities, like golfing, normally require outside travel. But even with golf, there are some resorts with (or bordering) golf courses. Generally the larger the resort more there is to choose from. But it may not always be 'the more the better' for everyone.
It doesn't make much sense to contribute (and you usually will either directly or indirectly) to an expensive recreation facility in a resort if you have absolutely no interest in that activity.
More about resort Activities
Most resort sites will list at least the most common activities and you should check out the list. If information is not shown or your interests don't appear but other resort attributes are appealing then you may want to take the trouble to contact the resort.
The resorts have someone in charge of activities. This is often a volunteer resident but could also be a resort employee. Contact them to discuss your interests. If their name and contact information is not shown on the site then contact the resort office. They are usually more than anxious to accommodate and promote all they have to offer.
In some cases the resorts are hungry to have residents that like to organize and spend their time getting people together for new activities. If you are that type of person then you may be able to start your own 'unique' activity. Ask if that is allowed and supported.
Location - Location - Location
There are a lot of considerations regarding the location of the resort. Most of them are personal and depends on what appeals to you and how you like to spend your time outside of the resort.
The larger resorts are really quite self-sufficient and you will probably be surprised how little you travel out. But of course you will want to shop, eat out, golf, and take in the whole array of adventures and entertainment in the area.
The best way to get a sense of the resort's location is, of course, on a map. But you can also get that lovely satellite view of the actual resort and see what the layout looks like, from above of course.
Keep in mind that you are actually having to consider TWO community locations. (1) The location of your unit within the resort 'community' and (2) the location of your resort within the larger community.
Resort Security
Check out the resort security.
We all care about the safety and security of our homes. And of course your winter home is just as important. This is even more important to those of us who come from smaller or rural communities into a strange place and maybe even find big cities a little scary.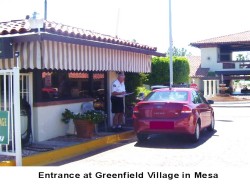 A huge huge advantage of having a winter residence in the (larger) resorts is the 24 hour security. These resorts are gated and most have a security person at the gate checking who comes into the resort. This is also important because you don't live here year-round. The comfort of knowing there is an emphasis on security helps you to relax and enjoy the lifestyle.
The Resort 'Paper'
Many resorts have regular (usually weekly) publications describing resort news, events and activities. Usually done by resident volunteers. They are a good source of resident information but also provide a bit of the 'flavor' of resort life.
Getting a copy(s) of these journals can contribute to your information package when deciding on a resort location. Some resorts place the copies of the resort paper on their websites. Worth checking.
Watch out for the Rules!
Before committing to residence (especially if buying a unit) make sure you get a copy of the resort rules and even take the trouble to (at least) phone the resort office to discuss arrangements and clarify rules of residence.
Rules are important and you should want the resort to have them. But within reason.
You should look for a resort that has rules that you appreciate if you are making it your (part-time) home. You will want to feel some comfort in knowing that security and other aspects are important to the resort management. But you will also want to make sure you do not lose your lifestyle independence with over-zealous resort management.
It is common for resorts to have rules governing security, cleanliness, quiet, and general good conduct. And most resorts do an excellent job of maintaining these standards.
If you are not moving into a 'resident owned' resort then you will be at the mercy of the resort owners and management. They get to make the rules and of course rules are important. But, some are more reasonable than others.